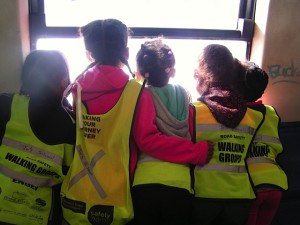 JackyBird Enterprises was incredibly proud to sponsor the annual outing enjoyed by the children of Jo's School in Vrygrond, which this year took the little ones aboard both train and bus to see Simonstown's famous colony of penguins. Quite beside themselves with the excitement, the 47 children hopped on board the train in Muizenburg – a first for the vast majority of them – and then choo-choo-ed their way to the Simonstown station, perched on knees and peering out the windows to see for themselves the striking False Bay coastline.
Upon their arrival in Simonstown, the children were shepherded aboard a bus to be taken to Seaforth beach, where they munched on orange and apple slices, followed by hotdogs and ice creams.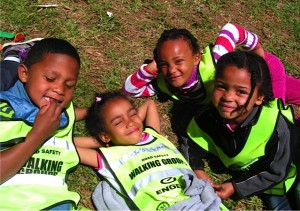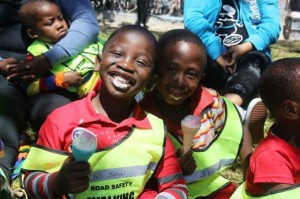 Then they strode the Boulders boardwalk, shrieking gleefully each time they spotted one of the area's resident Jackass Penguins in the dappled shade of the beach scrub. While they've learned much in class about them, none of the children had yet seen a real-life version of these peculiar birds dozing in the sun or waddling about in their starched dinner coats. What a joy it was to witness the awe and delight with which each and every child experienced the moment.
Sun-kissed, sticky and still full of smiles, it was back on the bus for the return journey to school…
Conceived by Yvonne Brown as a living tribute to her late daughter Joanne, the charitable preschool situated in the heart of Vrygrond township in Cape Town is close to the hearts of all of us here at JackyBird Farms. By supporting the school with donations of food and sponsoring events such as this one, we feel that, in some small way, we are able to contribute to providing a safe and nurturing learning environment for these 50 Aids-affected and vulnerable 3- to 6-year-olds, helping to give them that crucial first step onto the ladder of life.